Terrestrial Biodiversity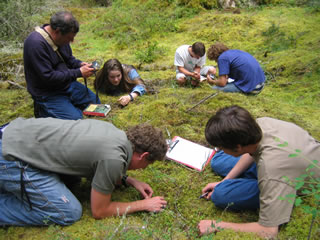 Lopez Hill plant survey
Expanses of salt water restrict the movements of animals and plants, making islands ecologically distinct from the mainland. There tend to be fewer species on islands, and unusual food webs arising from the order in which species arrived from elsewhere ("assembly rules"). Unique species, and genetically distinct variations in species, are also characteristic of island biogeography. There are more than a hundred vegetated islands in the San Juan Archipelago ranging in size from a fraction of an acre, to several square miles with mountains and streams. Annual rainfall varies dramatically from 12 inches on the southern tips of Lopez and San Juan Islands, to 55 inches on Mount Constitution (Orcas Island). Surprisingly little biodiversity research has been carried out in the San Juan Islands, however. Kwiaht is conducting inventories to fill that gap, and helping public and private landowners identify and conserve sensitive species. Kwiáht researchers visited 45 uninhabited islands that have become part of the San Juan islands National Monument, and conducted the first systematic inventories of plants, animals, cultural resources, and evidence of contemporary human disturbance. The BLM released a draft management plan for the Monument in 2018. You can read our critical review of the draft RMP Kwiaht_comments_on_SJINM_draft_RMP_EIS.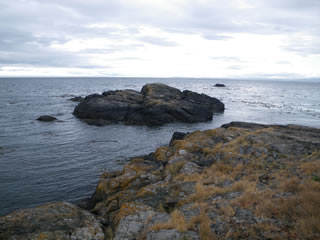 False Bay Rocks part of the National Monument
Population genetics is an essential tool for reconstructing the chronology of migrations and colonization of islands, and the emergence of distinct sub-species or cryptic species through long isolation. With help from the Toshiba America Foundation and State Farm Youth Advisory Board, Kwiáht has established a molecular ecology laboratory at Lopez School where our scientists, and interested students, use noncoding microsatellite DNA in relatively conserved functional genes to study the relationships between island populations of animals and plants and their relatives on the mainland. Ongoing studies include Camas, Townsend's Voles, Vagrant Shrews, and Northern Flying Squirrels, in the islands' Coastal Cutthroat Trout, as well as Pacific Sandlance and Pacific Herring.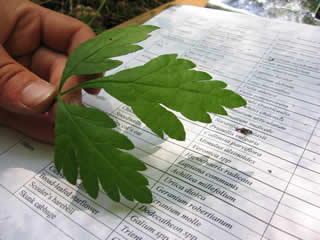 Plant diversity survey
Historical records and collections are also essential for understanding the contemporary assemblages of animals and plants in the San Juan Archipelago. Kwiáht has transcribed and indexed all of the surviving field notebooks and letters of the first naturalist to make systematic collections in the islands in 1857-1861, C.B.R. Kennerly, and his collaborator George Gibbs, who was proficient in Native languages. Kwiáht researchers also located hundreds of Kennerly's and Gibbs' specimens at the U.S. National Museum of Natural History, including the only known example of a Coast Salish "woolly dog" (learn more about woolly dogs: Coast_Salish_Woolly_Dogs).
Want to help out? See our Calendar for dates of public activities.
See also: Moths to Look For