Publications
Kwiáht produces a wide range of technical and educational publications that you can find at island retailers such as Darvill's Bookstore in Eastsound and at the Lopez Bookshop in Lopez village.
You can also purchase these publications directly from Kwiáht at a discount, as our way of saying "thank you" for your donation of $30 or more. Just add the special price of the publication you would like (as shown below) when you make your donation via PayPal or by check mailed to Kwiáht at PO Box 415, Lopez Island, WA 98261, and be sure to let us know what to mail to you and where!
A Bouquet of Pollinators from the San Juan Islands
A coloring book with 18 unique large black and white drawings by Julia Mira with color photos and text by Russel Barsh. First edition (2016) $17 including postage
Ecological Atlas of Fisherman Bay (N. Hodges, ed.)
More than 30 original full-color GIS maps showing the geology and hydrology of the archipelago's largest estuary, and the distribution of sensitive plants, birds and fish, together with historical maps and aerial photographs for change analsis.
First edition (2012) sold out; second revised edition available Summer 2021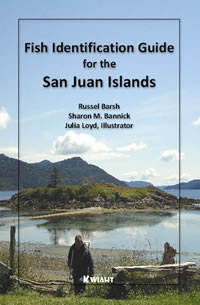 Fish ID Guide book cover
Fish Identification Guide for the San Juan Islands (R. Barsh, ed.)
Color photographs, original line illustrations, location and life history data for 34 important nearshore fish species of the San Juan Islands including five species of salmon, with both juvenile and adult forms.
Second printing (2015) $17 including postage
Marine Health Observatory Field Guides
Folding photographic field guides to marine life commonly seen at Kwiáht's field stations printed on water-resistant card stock so that you can join the adventure on a self-guided nature tour! Guides are currently available for Friday Harbor Marina and Indian Island (Eastsound).
Folding field guides (each) available for $3.50 including postage
Beneath the Docks (E. Johnstonbaugh, ed.)
A guide to dozens of strange and surprising marine animals that live underneath the Friday Harbor docks, in coloring book format for young readers. Drawn and arranged for Grades Three, Four and Five students at Friday Harbor Elementary School, especially for Kwiáht.
Available for $3.00 including postage.